The History of the ADK Winter Mountaineering School
The History of the ADK Winter Mountaineering School
January 19, 2022
By Rich Murray
Winter Mountaineering School (WMS) is focused on helping three-season hikers and climbers partake of the beauty of what we like to call "the best season"—no mud, no bugs, and on clear days, fantastic views. We teach students how to stay warm, dry, and safe in the harshest conditions that the Northeast mountains can deliver. Many of our students go on to become Winter 46ers, or to use Winter Mountaineering School as a stepping-stone to more technical alpine adventures, such as guided ascents of Mt. Rainier, Denali, or Aconcagua. Our all-volunteer instructor corps is made up exclusively of former students in a tradition of learning new skills and "teaching them forward" that goes back to our founding in 1954.
Prior to World War II, winter ascents of Adirondack High Peaks were uncommon, and many of the forty-six peaks remained unclimbed in winter until the late 1940s. Hikers and climbers would generally embark only on day hikes, retreating to the safety of a heated cabin each night; the skills and equipment for recreational camping in winter conditions simply did not exist.
Around this time, college outing clubs became major players in the quest for winter first ascents—and the competition became sufficiently heated that accidents and injuries began to rise as climbers' ambitions outstripped their skills. This spike in backcountry incidents led New York State to threaten to close the park's interior to climbers during the winter of 1951–52. There was clearly a need for educating and outfitting winter users, and this is where the story of Winter Mountaineering School begins.
Italy to the Adirondacks
Veterans of the U.S. Army's 10th Mountain Division, whose campaigns in the Italian Alps required them to develop strategies and equipment for operating in cold weather and mountainous terrain, returned to civilian life, some of them pivoting their wartime skills to recreation. These veterans were instrumental in creating many downhill ski areas, including Whiteface, Sugarbush, Aspen, and Vail. Advances in materials and equipment during the war filtered to the recreational market: bearpaw snowshoes with integrated traction aids, improved crampon designs, down-filled mummy-cut sleeping bags, lightweight tent fabrics, nylon ropes, and aluminum carabiners. So too did the research and training relating to cold, high-altitude combat conditions. Many of the relationships between nutrition, hydration, and energy expenditure that we still use today have their origins in this era.
Leveraging these hard-won advances in tools and techniques, the first Winter Mountaineering School was held at Adirondak Loj in late December of 1954. In those early years, trips were still limited to day hikes, but in 1958 the first advanced section embarked on an overnight camp as part of the program. The curriculum and equipment used on these trips became known as the Adirondack School of Mountaineering—groups were self-sufficient, low-impact, and skilled enough to summit the highest peaks of the Northeast in the harshest winter conditions. These principles are still the cornerstone of Winter Mountaineering School today.
By 1960, Winter Mountaineering School grew to a six-day affair with both day hikes based at Heart Lake and backpacking trips camped at Lake Colden. The outdoor recreation boom of the 1960s and 1970s continued, and so did the popularity of Winter Mountaineering School. Multiple programs running in the Adirondacks, the White Mountains of New Hampshire, and Mt. Katahdin in Maine hosted more than a hundred students a year. In the 1980s and 1990s, Winter Mountaineering School saw more modest enrollment but continued to run programs throughout the Northeastern mountains.
Where It's Come
Today, Winter Mountaineering School runs three introductory courses: A four-day day-hike course, a four-day backpacking course, and a seven-day "combo" of day hikes and backpacking—our flagship introductory program. Each of these programs begins with a day learning ice ax and crampon techniques in a controlled environment with a safe runout—the slopes of the Lake Placid Ski Jumping Complex. The following day, backpacking teams hike into the backcountry and learn how to stay warm and comfortable in sub-zero temperatures without the aid of a campfire or permanent structure. Meanwhile, day-hike and combo teams are led on "shakedown" hikes to minor peaks in order to learn proper temperature and moisture management, as well as to put their ice ax and crampon skills to work in the lower-risk below-tree-line environment. On the third day, students and instructors attempt ascents of selected 4000-footers. Perennial favorites include Giant, Algonquin, Wright, and Cascade. On the fourth day, backpackers return to Heart Lake, combo students depart on their backpacking trips, and day-hike teams spend time in various skills workshops. This is all in addition to lectures and discussion groups each evening. There's not a lot of downtime at Winter Mountaineering School.
In addition to the intro courses, Winter Mountaineering School has been running advanced programs for returning students to improve or refresh their skills. Lately, our Advanced Day Hike course, based at Johns Brook Lodge, has been very popular. Students review and expand their steep snow and ice travel techniques at the ski jump complex, and then head into the Johns Brook Valley, where they make summit attempts on multiple 4000-footers and possibly take on a slide climb. The Bennie's Brook Slide is an excellent beginner's climb in winter when the conditions are favorable and there's a skilled team. The views on the ascent are wonderful as we look back toward Big Slide, bathed in alpenglow because our pre-dawn alpine start puts us halfway up the slide by 7:30 a.m.
As recreation in the Adirondacks becomes increasingly popular, getting outside in winter is a wonderful way to shift use to a less crowded, lower-impact environment. The key is learning the skills to do it safely. Enrollment in Winter Mountaineering School 2022 is higher than it has been in recent memory and if that trend continues, Winter Mountaineering School will surely grow to meet the needs of ADK members looking to expand their skill sets.
Photo Credit: Chris Lang
---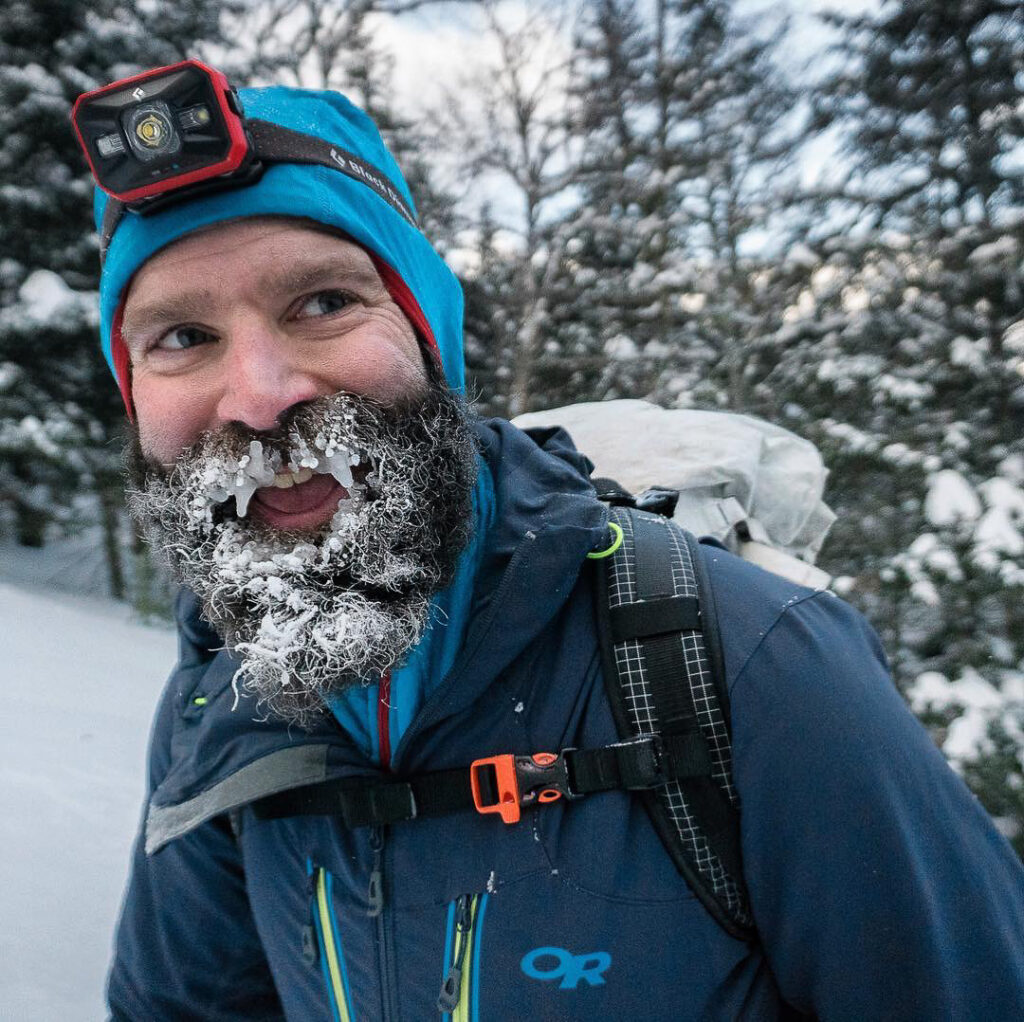 Rich Murray is Winter Mountaineering School director for 2022 and 2023. For more about the school, visit its website.