This Month in ADK History: the Adirondack Mountain Club's Founding
This Month in ADK History: the Adirondack Mountain Club's Founding
April 17, 2022
The following was adapted from "With Wilderness at Heart: A Short History of the Adirondack Mountain Club" by Bruce Wadsworth
Our story begins in January, 1921 on a small, frozen pond near Utica, New York. Out on its surface, a man is struggling over a rough-hewn hole in the ice. His name: Meade Dobson, secretary of the Palisades Interstate Park Conference. After some time, his efforts are rewarded as he drags an impressive, but illegally caught, trout out of the frigid waters. It's a fateful catch, one that will eventually lead to the founding of the Adirondack Mountain Club.
Proud of his achievement, Dobson would later brag about it to a friend. Unfortunately for him, this friend was the chief game protector for the New York State Conservation Commission (precursor to the New York State Department of Environmental Conservation). Apparently in good humor, he was subsequently brought before Commissioner George Pratt and delivered a small fine. Despite this misfortune, Dobson used this moment as an opportunity to present a bold idea to the commissioner.
In the years following the founding of the Adirondack Park, the state had confiscated numerous parcels of land from logging companies. Many of these lands were filled with dirt roads that were now unused. Dobson, who was enthusiastic about the potential for hiking in the Adirondacks, used his meeting with Pratt to suggest that an organization should be founded to transform some of these roads into trails. Pratt was quite impressed by the idea and would later direct his assistant supervisor of forests, William G. Howard, to work with Dobson to assess the potential success of such an organization by collecting stakeholders.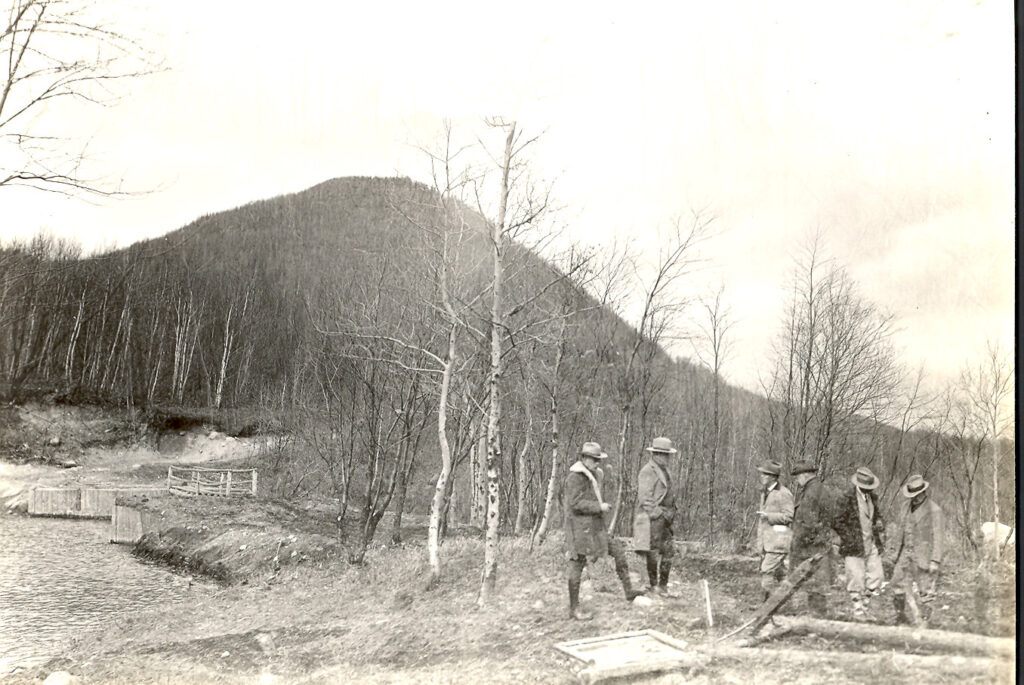 Months later, on December 5, 1921, a meeting was held in the Log Cabin atop the Abercrombie & Fitch building in New York City. Under Dobson's leadership, forty people representing a variety of outdoor recreation, retail, and tourism companies attended and began to form the basis for an organization that would "…give as many people as possible a chance to get into the woods; to improve the system of trails and camps; and to educate the public to keep the camps clean and the woods from being burnt."
The idea quickly took hold. Five months later, another meeting was held to elect officers. This included selecting George Pratt as ADK's first president and Meade Dobson as its vice president. Then, on April 17, 1922, the officers signed a Certificate of Incorporation, bringing the Adirondack Mountain Club into existence. Finally, on April 29, New York State recognized the Certificate, allowing the Adirondack Mountain Club to begin its first project: the construction of the 138-mile Northville-Placid Trail (NPT).
Today, the organization celebrates a century of teaching people how to explore and protect New York's public lands and waters. Just as its founders envisioned, the Adirondack Mountain Club has consistently been there over the years to build better trails, educate visitors, and protect New York's public lands and waters. It is a legacy that the Adirondack Mountain Club looks to build on as it welcomes in future generations of outdoor recreators, all as inspired by the Adirondacks as Meade Dobson was over a hundred years ago.