Cascade Welcome Center: Where to Go and What to See
Cascade Welcome Center: Where to Go and What to See
By Janelle Jones
---
So, you want to visit Cascade Welcome Center and go cross-country skiing? Great! The trails are open and winter is in full swing here. Routine grooming and set tracks make this an ideal location for learning to cross-country ski or enjoying the sights and sounds of a peaceful center. The best part is that there is something for everyone.
Intro to Cross-Country Skiing
Not everyone is an expert cross-country skier, and that's perfectly okay! We have miles of trails that are well-suited for entry-level skiers who are looking to learn the ropes and get out on the snow. The trails in the northern section of the property are generally wider and more gentle. It is the Adirondacks, so "flat" is a relative term, but any hill or bump you come upon here is beginner-level. Easy Street and Beaver Run are two of the more mellow trails on property. Tamarack and Marshmellow (yes, that's spelled correctly! The trail is mellow and it runs alongside a marsh) are two others that are good for beginners, or even those looking for a pretty view to soak in while they're skiing.
Marshmellow is home to perhaps the most scenic area at Cascade Welcome Center. An opening in the tamarack trees leads to excellent views of Cascade Mountain and the #7 slide. The slide looks like a giant scar on the side of the mountain in the shape of a number seven. Visitors can take a break here and take in the view; just be careful not to go out on the ice. The brook is always moving so the ice may not be very thick and conditions will be variable at best.
Want to give cross-country skiing a go, but don't have your own equipment? No sweat! Cascade Welcome Center has a full rental counter with skis, boots, and poles for classic and backcountry skiing.
Ski to the Hills
We don't have to leave all the fun downhills to the alpine resorts. Cascade Welcome Center is mostly beginner-friendly, mellow terrain, but there are more advanced trails that are full of twists, turns, hills, and thrills. Flanagan's Run, Cascade, and Annie's Chute are all set for intermediate or expert skiers who find excitement in free-heel downslopes. On these trails, you'll find steeper downhills marked by turns in the trail. There are also shorter sections of hills on Main Street and Ridge Run.
Every hill is marked with a "caution" sign so you'll be able to hit those if you want to, or avoid them if you don't want the speed. If you don't want to ski the steeper downhills, stay on the north side of the brook. (Don't cross any bridges!) On the opposite side of the bridges is where the longer downhill runs are. Since this area gains some elevation away from the marsh, the forests open up a bit more with hardwoods dominating. While skiing the hills, if you find yourself in need of a break, stop at the lean-to on Rabbit Run. It's a great place to rest for a moment.
Peaceful Walks
Cascade Welcome Center is not just for cross-country skiing. Snowshoers are welcome, too! There are three trails specifically for snowshoeing on-property. In contrast to the wider ski trails, the snowshoe trails are narrower, creating a woodland tunnel of sorts that winds through the forest in a truly magical way that is wonderfully peaceful in winter. Flat and pleasant, these trails are a perfect place to either stretch your legs and see some new sights, or test out a new hobby. New to snowshoeing? No problem! We have rentals in the ski shop.
The snowshoe trails are not groomed like the ski trails, but their natural state is highlighted by fresh snow and fresh tracks! Yes, on the snowshoe trails you'll likely find many footprints in the snow, telling a story of what creatures visited this area prior. Snowshoe hare tracks might zigzag around the forest floor, hopping from brush pile to brush pile. Since snowshoe hare change from brown to white fur in winter it may be a challenge to actually spot one, but their tracks are a constant at Cascade Welcome Center. We've also heard reports from visitors that they've seen moose tracks on our snowshoe trails!
Information and more
Aside from being a ski center, Cascade Welcome Center has all the new gear you need to start a cross-country ski journey of your own. Plus, a consignment rack means that there is a rotating selection of used, budget-friendly gear. Our knowledgeable staff can help you pick the best gear for your needs and tune up any equipment you already own.
Whether you're into skiing, snowshoeing, or just relaxing by the Great Room fireplace, in front of a window with a great view, there is something for everyone at Cascade Welcome Center. We hope to see you sometime this winter!
Cascade Welcome Center
by Janelle Jones
Ski Trail
A winter wonderland.
Cascade and #7 Slide
A scenic view from the Marshmellow Trail.
Caution Sign
Signs warn of hills ahead so you can choose your level of difficulty.
Snowshoe Trail
We also have dedicated trails for snowshoeing.
Tracks in Fresh Snow
Many animals visit our property.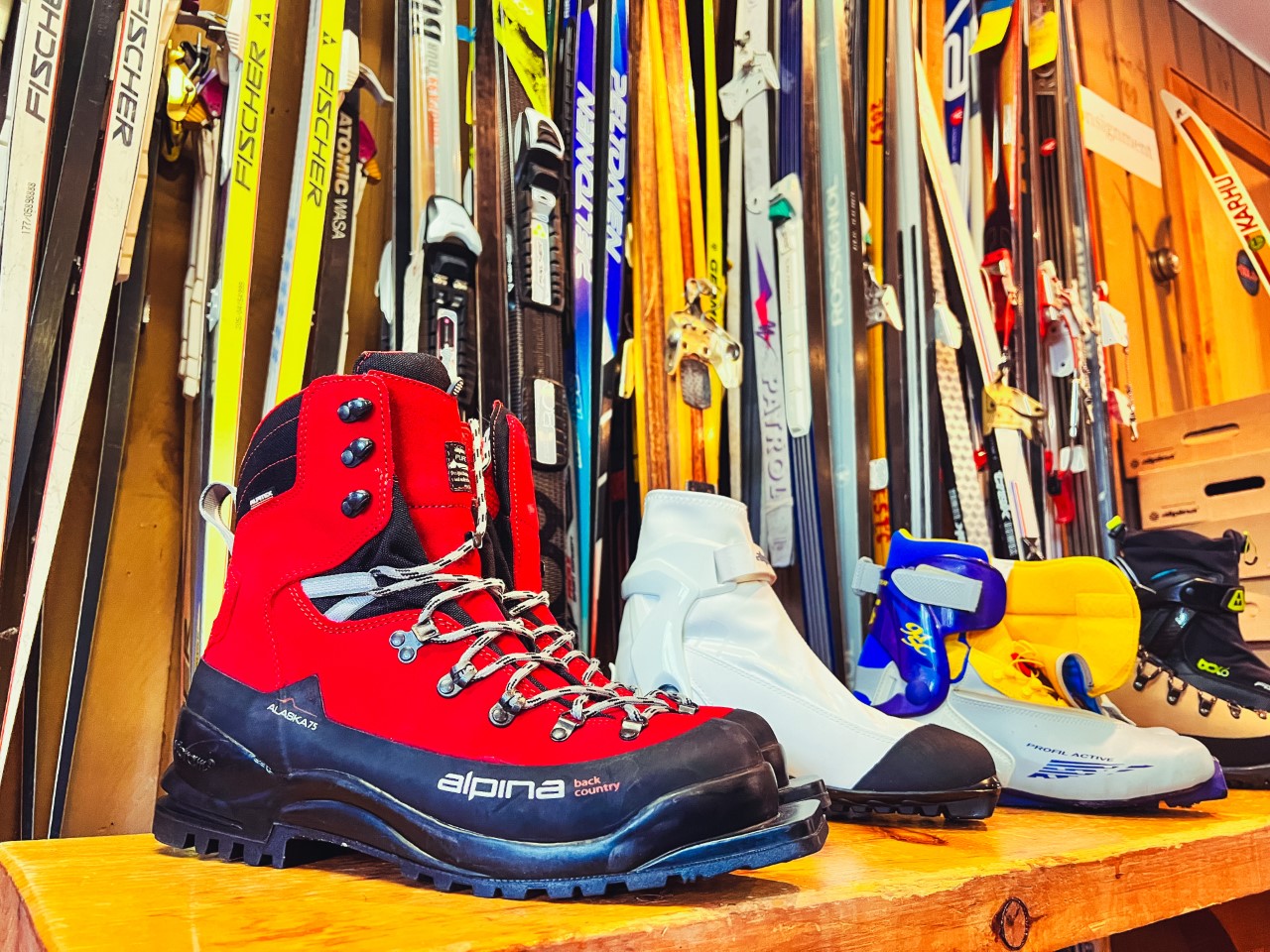 We Sell Gear!
New and consignment gear is available.
Rentals & More
We offer rental equipment, and services too.
Trails for Everyone
Ski trails suitable for all levels.
Cascade Programs
We offer skill-building workshops and recreation programs, including beginner ski & snowshoe lessons.
Expert Advice
Our friendly staff is there to help you plan your next adventure.
---
To view a map of the Cascade Welcome Center trail system, click here.
For trail conditions, a list of services and rates, upcoming Cascade Welcome Center programming, and other information, click here.
Also, be sure to follow Cascade Welcome Center on Facebook and Instagram.