Skills of a Trail Builder
Skills of a Trail Builder
By Charlotte Staats, Trails Manager
I was not thinking about how trail work could be a viable career path when I interviewed for the position of Volunteer Trail Crew Leader (VCL) in February 2015. What crossed my mind were the stories my mom told me when I was little. She'd held that same position in the late 1980s, and would recount how she used rock bars to move boulders that weighed more than she did to build staircases, and how the rhythmic movement and well-placed axe chops could fell a tree that would then be used to build a bridge for people to hike on.
What I wanted was a chance to live in the woods for the summer and see if I could become as strong as my mom. My first summer doing trail work was a life-changing experience. I worked hard and unknowingly set myself on what I believe will be a lifelong career path in a highly skilled trade that has begun to boom around the world.
There were many things I did not think about when I accepted the VCL position. But within my first month at ADK, the training and initial trips opened my eyes to a world of wilderness work ethic and craft that verified stories I'd heard about the job.
The ADK Trails Department specializes in wilderness trail work. ­"Wilder­­ness" within the Blue Line is classified by the Adirondack Park State Land Master Plan as "areas where the earth and its community of life are untrammeled by man—where man himself is a visitor who does not remain." With this classification comes strict regulation, including prohibition of motorized equipment within the bounds of Wilderness ­Areas, meaning that all trail work done in Wilderness Areas (and Primitive Areas) is accomplished with traditional, hand-powered tools (except for chainsaw use during the shoulder seasons). Every stone moved and strategically set is done so with the sweat and muscle of human bodies.
You can quickly learn how to safely use hand tools, since the tool is only moving as fast as you are, but it takes longer to learn the skills you need to work efficiently and swiftly no matter how challenging the terrain you're building in. Not only that, but there's a myriad of hand tools used in the trade, each with its own purpose and technique. Over time a trail worker builds a vast repertoire of knowledge for these tools, their uses, how to work efficiently with them, and how to maintain the tools for projects to come.
Simultaneously, a new trail worker is learning how to build various kinds of trail infrastructure. Over my first two summers working on trails, I learned the processes of building rock staircases, step stones, rock turnpiking, native timber bridging, and how to build new trail. It takes more than one project to become proficient in the construction of any of these. With each new project site comes new challenges and adaptations to customize the build so it fits naturally in the area and will last for years to come. Through dedicated time in the field, a trail builder gains the valuable experience needed to become an expert. Whether building new trail or making improvements to existing trail, learning the ins and outs of what, why, how, and where to build trail infrastructure is essential.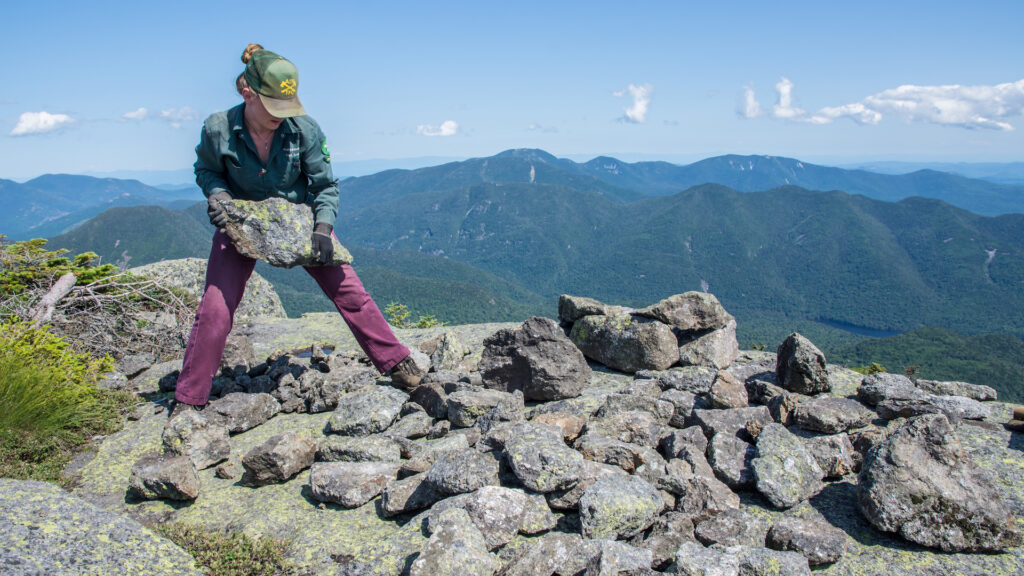 Now as ADK Trails Manager, trail planning and design issues require me to take a step back and look at the broader questions of where the trail will go and why, as well as who will be using it. It is necessary to read and interpret the surrounding landscape in order to build the appropriate infrastructure for the context of the trail. Looking holistically at the trail, the surrounding area, the flora and fauna, the trail user, and the trail's intended use, a planner and designer can choose the location of a new trail that protects the surrounding natural resources while giving those who use the trail an immersive natural experience with points of interest and exciting vistas, as well as a playful adventure.
Whether the trail is brand new or has existed for decades, the desired experience, user group, and overall goals of the trail inform a trail builder as to what kinds of infrastructure are appropriate and how the trail should be built.
Since that fateful summer in 2015, I've come to fully appreciate the skills required to plan, design, and build trails in the Adirondacks. As the outdoor recreation industry continues to grow, so does the need to build and maintain trails in- and outside the ­Adirondack Park. The trail-building profession has been expanding rapidly to meet the growing demands. At ADK, not only are we performing much needed trail work on Forest Preserve lands, but we're also training young trail-building professionals and providing trail workers to organizations in need of employees, both in the U.S. and internationally. My goal is to ignite people's passion for trail work, just like others within ADK's programs did for me. Nine years later, my passion for trails hasn't dimmed.
---
Trails Manager Charlotte Staats oversees ADK's professional and ­supervised volunteer trail crews, trail work contracts, and Adopt a Lean-to and Trail Steward ­Programs. She holds a Bachelor of Science in Environmental Science and Policy from Clarkson University.