Naturalist Series
Explore the natural world of the Adirondacks by attending our free naturalist-led interpretive programs. These include daily nature walks, evening campfire talks, and more.
For more information on daily programming, please stop by the Adirondak Loj or call 518-523-3441 ext. 1.
In addition to the programs listed in the calendar, our naturalist interns also offer the following:
---
The Nature Museum
Daily, 9am – 5pm (Late-June – mid-August)
Located on the Heart Lake Loop Trail, the Heart Lake Nature Museum makes a great introduction to the natural world of the Adirondack High Peaks, for kids and adults alike. An ADK naturalist is always on hand to answer questions and foster your curiosity. Check out the interactive exhibits, the touch table or simply browse through the many field guides.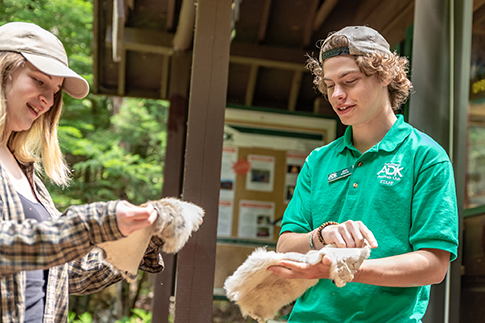 ---
Mt. Jo Summit Host
Daily, 10am – 4pm (Late-June – mid-August)
An ADK naturalist will be atop Mt. Jo every day to answer questions and enhance your experience on the summit of one of the best short hikes in the Adirondacks.