Safe Recreation During Hunting Season
Safe Recreation During Hunting Season
By Erin Trombley 
Autumn is a beautiful time to enjoy the backcountry. It's cooler, there are fewer bugs, and of course, early-season foliage is gorgeous all over the North Country. But hikers are not the only recreators enjoying the backcountry this time of year. In the Northern Region, for about 6 weeks beginning toward the end of October, it's regular deer hunting season. While there are other sporting seasons for hunters throughout the year, regular deer hunting season brings out the most hunters. That means there are some extra precautions you should take to ensure you stay safe while enjoying the outdoors.
Avoid hunting grounds
This may be obvious, but it can be more complicated than it seems. Hunting is allowed in state forests and many other private and publicly owned lands. (Click here for an extensive list.) In state forests, however, intensive use areas are excluded.
For those popular six weeks of deer hunting season, consider visiting intensive use areas and other restricted lands instead of more remote backcountry locations. This way you can enjoy the beauty of the season without concerns about the potential for hunters nearby.
View an interactive map of land classifications here to find an intensive use area to explore.
Be visible
If you choose to venture into areas where hunting is permitted, there are 3 good ways to make sure you're seen and recognizable as a person, so you don't become a target.
High Vis: You're probably aware that hunters wear high visibility blaze orange or dayglow pink hats and clothing on their upper bodies. That ensures hunters see each other for safety. If you're in the woods during hunting season, you should also wear brightly-colored clothing that is easily distinguished from your surroundings and especially wildlife, to make sure you don't become an accidental target. Bright pink, red, orange, or yellow items are recommended. This recommendation includes your canine companions.
Avoid treed areas: Hiking in open areas, where you're taller than grasses, bushes, and foliage, makes it much clearer that you are not what a hunter is looking for.
Daylight: Hiking during daylight hours is always preferred, but also helps increase your chances of being seen and identifiable as a person, not an animal, during hunting seasons. Dusk and dawn are times when deer especially tend to venture out, so if you're off the trail by dusk, that will reduce the chance of being mistaken for an animal as well.
Stay on the trail
Staying on the trail means you remain in areas where hunters should expect to encounter people, and not be looking for an animal. It's especially important to make sure your dogs are leashed and remain on trail with you at all times as well.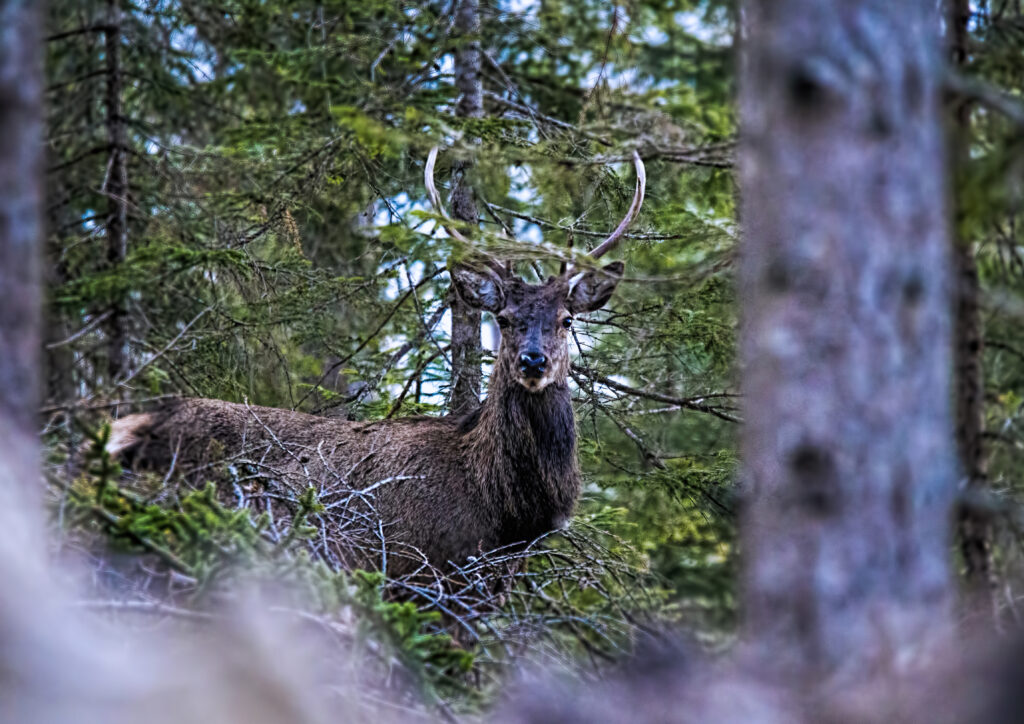 Make some noise
We don't advocate playing loud music or making an excessive amount of noise, because we want you and others to be able to enjoy the sounds of nature around you. However, if you're in a remote area, and the only sound you're making is rustling leaves, you can imagine how that could potentially be dangerous in an area where hunters are present.
Talking with your hiking buddy is a good way to be distinguished from an animal. Some folks add a small bell to their pack. Again, you don't need to make a lot of noise to be heard and discernable from wildlife, but you should be conscious of how you sound to any hunters in the area.
Knowing what's in season and where that type of hunting is permitted is important all year. When you're planning your adventures and preparing your gear, add the extra step of checking the map and schedule of hunting seasons so you can take appropriate precautions as needed. You can see a detailed list of hunting seasons here.
Thanks for reading, and take care out there!