Sustainable Trails and Other Solutions
Sustainable Trails and Other Solutions
Sustainable Trails
Modern trail-building techniques, like turnpiking and switchbacks, minimize erosion, keep hikers off surrounding vegetation, and create a more enjoyable wilderness experience overall. Of course, this requires investments in time, money, and labor, but this action is essential to ensuring that New Yorkers can continue to visit these incredible areas with minimal risk to themselves and the surrounding landscape for years to come.
Other Protections for the Forest Preserve and its Visitors
Infrastructure
The Forest Preserve is managed as wild forest, and as such, parking and restroom facilities to meet the needs of increasing numbers of visitors were not part of the original plan. But many of the Forest Preserve's visitors drive long distances to reach a trailhead, and when they arrive, there are often insufficient basic amenities.
For example, without available parking facilities, visitors park along the road near trailheads, clogging roadways and making it unsafe for both pedestrians and passing cars.
Lack of restroom facilities has created a human waste crisis. Adding restroom facilities, reduces not only incidents of human waste on trails, but also the impact of thousands of hikers correctly going 150 feet off-trail to dig cat holes for waste. Unburied human waste and toilet paper left on or near trails is a major concern for health and water quality. Whether the facilities are port-a-potties or permanent, restroom facilities are crucial to ensuring that human waste ends up in a toilet and not on the side of the trail.
Education
One thing we know for certain is that an investment in teaching visitors how to safely and responsibly enjoy the Forest Preserve has excellent returns.
Educational outreach focused on backcountry safety and preparedness—such as the risks of relying on cell phones, the importance of having a light source, and so on—decreases the number of people injured or killed in places like Kaaterskill Falls in the Catskills, and also reduces the number of dangerous and resource-draining search and rescue missions required to assist lost hikers. Education also provides incredible benefits for protecting the natural environment.
In the 1980's, increased use in the Adirondacks Eastern High Peaks region threatened the survival of rare plants in the alpine zone, New York State's rarest and most delicate ecosystem.
In response, ADK, the NYSDEC, and the Adirondack Chapter of the Nature Conservancy joined forces to found the Adirondack High Peaks Summit Stewardship program in 1989. This program places stewards atop the busiest summits in the High Peaks region throughout the summer to educate hikers about the alpine zone. Each day, they greet hikers, ask them to stay off the alpine vegetation, and explain the importance of this action. The results of this effort have been nothing short of remarkable.
Since the program's inception, more than half a million hikers have learned from summit stewards. And as these photographs show, there has been an unmistakable recovery in alpine vegetation since stewards first appeared on summits over 30 years ago. Furthermore, despite massive increases in visitor use since 2009, there has been no decline either. This all without any enforcement. Just education.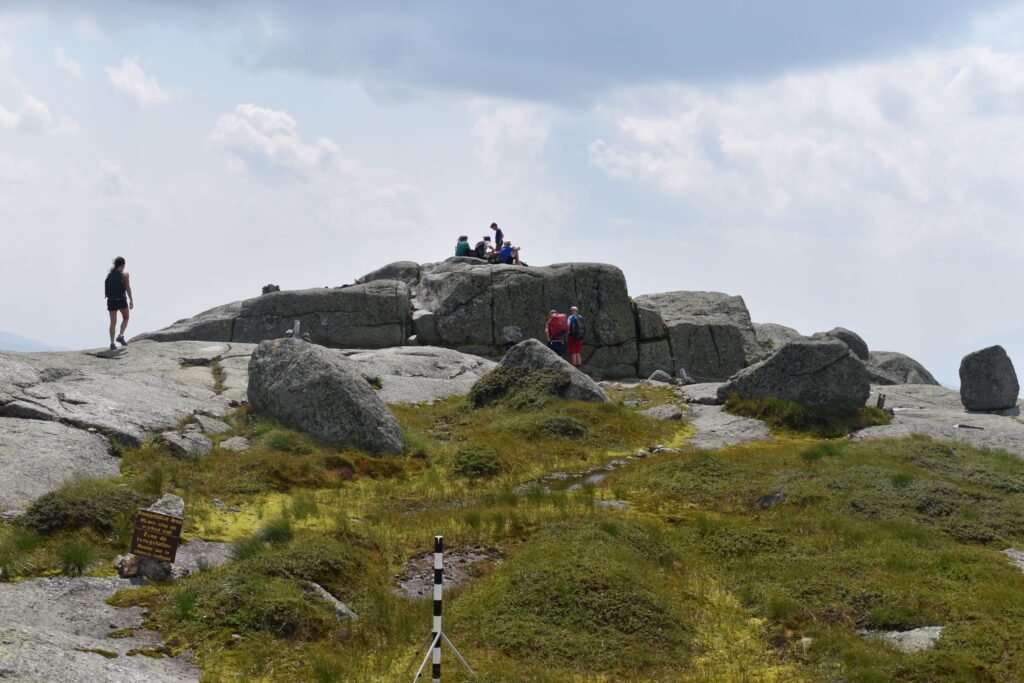 While stewards protect summits, educational infrastructure is also needed at trailheads to provide visitors with other helpful information that both meets their needs and supports area businesses. This can include information about restaurants, lodging, events, shops, and more.
What's more, front country infrastructure that includes education and other key information will help provide first-time visitors with the support they need to feel safe and welcome in the wilderness. This is necessary to improve inclusivity, eliminate barriers, and make the backcountry accessible to everyone.
What can you do to help?
If you support the Forest Preserve and want to see continued progress in the areas we've just talked about, here are some things you can do:
Sign up for an in-person or virtual skills workshop with us so you'll be prepared for your next adventure
Follow Leave No Trace principles when you enjoy the Forest Preserve or other wilderness areas
Contact your legislator to support funding these critical needs
By supporting the initiatives ADK and our partners are advocating for, we can achieve better conditions for recreators and the wild places of the Forest Preserve; recreators will have more comfortable, safer experiences in the wild, while our natural resources remain protected.